For the Do-It-Yourselfers...
Save more and increase your pride by driving something you repaired!
Our goal is to take the fear out of purchasing damaged salvage repairable used cars and trucks for sale online
by providing HONEST ACCURATE DETAILED descriptions of each wrecked auto, leaving you no surprises.
If you have any questions, please do not hesitate to ask, our contact information is listed above.

When purchasing a used car or truck sight unseen from Montana Auto Recyclers: FIRST, test drive the same year, make, and model to become familiar with the rebuildable auto you will be buying. SECOND, view our FAQs page for common asked questions. Thank you in advance, for telling your friends & family to save money and purchase their next used vehicle from Montana Auto Recyclers. We are proud of the fact the majority of our business is from repeat customers and their referrals! Thank you again.

NOTE: Repair of damaged salvage repairable cars and trucks is ongoing. Prices are subject to change as repairs are made. **Please click your refresh button to see updated pictures each time you return to our site!


Stock # 17-214
2015 Buick Verano 4dr
Miles: 22,749


$5,500
Right front

Options: Leather, AC, Power Locks, Cruise, Power Seats, AM/FM, Tilt, Mags, Power Windows, R/W Defrost, CD Player, Power Mirrors, ABS, Heated Seats, Fog Lights







Stock # 17-266
2008 Buick Lucerne CXL
Miles: 96,068


$2,000
Left front

Options: Leather, AC, Power Locks, Cruise, Power Seats, AM/FM, Tilt, Mags, Power Windows, R/W Defrost, CD Player, Power Mirrors, Heated Seats







Stock # 18-108
2011 Chev Suburban 4WD LT
Miles: 82,545


$8,950
Front

Options: Leather, AC, Power Locks, Sunroof, Cruise, Power Seats, AM/FM, Tilt, Mags, Power Windows, R/W Defrost, CD Player, Power Mirrors, ABS, Hitch, Towing Package, Fog Lights, 3rd Seat







Stock # 18-113
2014 Chev Equinox AWD LT
Miles: 49,273


$5,750
Minor front and rear

Options: AC, Power Locks, Cruise, AM/FM, Tilt, Mags, Power Windows, R/W Defrost, CD Player, Power Mirrors







Stock # 18-114
2015 Chev Sonic 5dr LT
Miles: 69,000


$4,500
Left front and rear

Options: AC, Power Locks, Cruise, AM/FM, Tilt, Mags, Power Windows, R/W Defrost, CD Player, Power Mirrors







Stock # 18-115
2010 Chev Malibu 2LT
Miles: 84,985


$2,500
Right front

Options: AC, Power Locks, Cruise, AM/FM, Tilt, Mags, Power Windows, R/W Defrost, CD Player, Power Mirrors, Fog Lights







Stock # 18-117
2012 Chev Impala LT 4dr
Miles: 99,142


Price Pending
Dents around

Options: AC, Power Locks, Cruise, Power Seats, AM/FM, Tilt, Mags, Power Windows, R/W Defrost, CD Player, Power Mirrors, ABS







Stock # 18-119
2012 Chev Sonic 5dr LT
Miles: 62,917


Price Pending
Roof

Options: AC, Power Locks, Cruise, AM/FM, Tilt, Mags, Power Windows, R/W Defrost, CD Player, Power Mirrors







Stock # 18-120
2013 Chev Cruze 4dr LT
Miles: 76,910


Price Pending
Left rear

Options: AC, Power Locks, Cruise, AM/FM, Tilt, Mags, Power Windows, R/W Defrost, CD Player, Power Mirrors







Stock # 18-121
2011 Chev Malibu 2LT
Miles: 92,530


Price Pending
Right side

Options: Leather, AC, Power Locks, Cruise, Power Seats, AM/FM, Tilt, Power Windows, R/W Defrost, CD Player, Power Mirrors, Fog Lights







Stock # 18-122
2012 Chev Impala LT 4dr
Miles: 94,387


Price Pending
Left rear

Options: AC, Power Locks, Cruise, AM/FM, Tilt, Mags, Power Windows, R/W Defrost, CD Player, Power Mirrors, ABS







Stock # 17-173
2014 Chev Cruze LT
Miles: 17,087


$4,250
Front damage

Options: AC, Power Locks, Cruise, AM/FM, Tilt, Mags, Power Windows, R/W Defrost, CD Player, Power Mirrors







Stock # 17-215
2012 Chev Sonic 4dr LTZ
Miles: 61,314


$2,750
Front damage

Options: Leather, AC, Power Locks, Cruise, AM/FM, Tilt, Mags, Power Windows, R/W Defrost, CD Player, Power Mirrors, ABS, Fog Lights







Stock # 16-14
2007 Chev Malibu 4dr LS
Miles: 90,353


$1,750
Needs motor - Hail

Options: AC, Power Locks, Cruise, AM/FM, Tilt, Power Windows, R/W Defrost, CD Player, Power Mirrors







Stock # 17-04
2013 Chev Cruze 4dr LS
Miles: 45,184


$3,750
High front

Options: AC, Power Locks, Cruise, AM/FM, Tilt, Power Windows, R/W Defrost, CD Player, Power Mirrors







Stock # 17-263
2015 Chev Cruze 4dr LTZ
Miles: 41,381


$7,500
Right side

Options: Leather, AC, Power Locks, Cruise, AM/FM, Tilt, Mags, Power Windows, R/W Defrost, CD Player, Power Mirrors, ABS, Heated Seats, Fog Lights







Stock # 16-58
2010 Chev Cobalt 4dr LT
Miles: 59,639


$1,950
Left front

Options: AC, Power Locks, AM/FM, Tilt, Power Windows, R/W Defrost, CD Player, Power Mirrors







Stock # 18-27
2016 Chev Cruze Lmtd LT
Miles: 46,949


$4,950
Right front

Options: Leather, AC, Power Locks, Cruise, AM/FM, Tilt, Mags, Power Windows, R/W Defrost, CD Player, Power Mirrors







Stock # 18-50
2007 Chrysler PT Cruiser
Miles: 106,495


Price Pending
Left rear

Options: AC, Power Locks, AM/FM, Tilt, Power Windows, R/W Defrost, CD Player







Stock # 18-101
2016 Dodge Dart 4dr SE
Miles: 11,596


$4,500
Right front damage

Options: AC, Power Locks, Cruise, AM/FM, Tilt, Power Windows, R/W Defrost, CD Player, Power Mirrors







Stock # 18-105
2009 Dodge Avenger SXT
Miles: 76,640


Price Pending
Front

Options: AC, Power Locks, Cruise, AM/FM, Tilt, Power Windows, R/W Defrost, CD Player, Power Mirrors







Stock # 18-112
2010 Dodge Avenger SXT
Miles: 80,033


Price Pending
Rear damage

Options: AC, Power Locks, Cruise, AM/FM, Tilt, Power Windows, R/W Defrost, CD Player







Stock # 17-210
2007 Dodge Caliber SXT
Miles: 103,480


$1,500
Hail and engine bad

Options: AC, Power Locks, Cruise, AM/FM, Tilt, Mags, Power Windows, R/W Defrost, CD Player, Power Mirrors







Stock # 17-227
2013 Dodge Journey AWD SXT
Miles: 46,719


Price Pending
Left front

Options: AC, Power Locks, Cruise, AM/FM, Tilt, Mags, Power Windows, R/W Defrost, CD Player, Power Mirrors, Hitch, 3rd Seat







Stock # 17-235
2015 Dodge Journey Crossroad AWD
Miles: 29,050


Price Pending
Front

Options: Leather, AC, Power Locks, Cruise, Power Seats, AM/FM, Tilt, Mags, Power Windows, R/W Defrost, CD Player, Power Mirrors, ABS, Heated Seats, Fog Lights, 3rd Seat







Stock # 18-100
2013 Ford Escape Titanium
Miles: 52,622


$7,500
Minor front

Options: Leather, AC, Power Locks, Sunroof, Cruise, Power Seats, AM/FM, Tilt, Mags, Power Windows, R/W Defrost, CD Player, Power Mirrors, ABS, Navigation, Hitch, Towing Package, Heated Seats, Fog Lights







Stock # 17-244
2014 Ford Focus 5dr SE
Miles: 25,917


$3,250
Front and right side

Options: AC, Power Locks, Cruise, AM/FM, Tilt, Mags, R/W Defrost, CD Player, Power Mirrors







Stock # 18-13
2015 Ford Focus SE 4dr
Miles: 28,942


Price Pending
high front damage

Options: Leather, AC, Power Locks, Cruise, AM/FM, Tilt, Mags, Power Windows, R/W Defrost, CD Player, Fog Lights







Stock # 18-63
2010 Ford Escape Limited AWD
Miles: 71,031


$7,500
Rear

Options: Leather, AC, Power Locks, Cruise, AM/FM, Tilt, Mags, Power Windows, R/W Defrost, CD Player, Power Mirrors







Stock # 18-107
2015 GMC Terrain AWD SLE2
Miles: 41,825


Price Pending
Rear quarter

Options: AC, Power Locks, Cruise, Power Seats, AM/FM, Tilt, Mags, Power Windows, R/W Defrost, CD Player, Power Mirrors







Stock # 18-91
2013 Honda Civic 4dr EX
Miles: 48,811


$4,950
Left front

Options: AC, Power Locks, Sunroof, Cruise, AM/FM, Tilt, Mags, Power Windows, R/W Defrost, CD Player, Power Mirrors, ABS







Stock # 17-196
2016 Honda Civic 4dr EX
Miles: 4,235


$8,950
Rear

Options: AC, Power Locks, Sunroof, Cruise, AM/FM, Tilt, Mags, Power Windows, R/W Defrost, CD Player, Power Mirrors, ABS







Stock # 18-03
2015 Honda Accord 4dr EXL
Miles: 27,006


$7,750
Front and minor on roof

Options: Leather, AC, Power Locks, Sunroof, Cruise, Power Seats, AM/FM, Tilt, Mags, Power Windows, R/W Defrost, CD Player, Power Mirrors, ABS, Navigation, Back up System, Heated Seats, Fog Lights







Stock # 17-53
2008 Honda Accord 4dr EXL
Miles: 82,969


$3,950
High front

Options: Leather, AC, Power Locks, Cruise, Power Seats, Tilt, Mags, Power Windows, R/W Defrost, CD Player, Power Mirrors, Heated Seats, Fog Lights







Stock # 18-99
2016 Jeep Renegade Latitude 4WD
Miles: 10,813


$6,950
Right side

Options: AC, Power Locks, Cruise, AM/FM, Tilt, Mags, Power Windows, R/W Defrost, CD Player, Power Mirrors, Fog Lights







Stock # 16-62
2005 Jeep Liberty Sport 4WD
Miles: 128,254


$1,950
High front

Options: AC, Power Locks, Cruise, AM/FM, Tilt, Mags, Power Windows, R/W Defrost, CD Player, Power Mirrors







Stock # 18-90
2013 Mazda 3 4dr i
Miles: 32,198


Price Pending
Right front

Options: AC, Power Locks, Cruise, AM/FM, Tilt, Power Windows, R/W Defrost, CD Player, Power Mirrors







Stock # 18-116
2015 Mazda CX-5 Sport AWD
Miles: 34,401


$8,950
Right rear quarter damage

Options: AC, Cruise, AM/FM, Tilt, Mags, Power Windows, R/W Defrost, CD Player, Power Mirrors







Stock # 18-38
2012 Mazda 3 4dri
Miles: 49,106


Price Pending
Left front

Options: AC, Power Locks, AM/FM, Tilt, Power Windows, R/W Defrost, Power Mirrors







Stock # 18-71
2016 Mini Cooper 4dr S
Miles: 21,222


$10,950
Right rear

Options: Leather, AC, Power Locks, Cruise, AM/FM, Tilt, Mags, Power Windows, R/W Defrost, CD Player, Power Mirrors, ABS, Navigation







Stock # 17-157
2015 Nissan Versa Note
Miles: 30,182


$5,250
Right front

Options: AC, Power Locks, AM/FM, Tilt, Mags, R/W Defrost, CD Player, Power Mirrors







Stock # 15-133
2015 Nissan Versa Note 5dr SV
Miles: 20,031


$5,950
High front

Options: AC, Power Locks, Cruise, AM/FM, Tilt, Power Windows, R/W Defrost, CD Player, Power Mirrors







Stock # 18-34
2014 Nissan Altima SV 4dr
Miles: 29,365


$4,500
High front

Options: AC, Power Locks, Cruise, AM/FM, Tilt, Mags, Power Windows, R/W Defrost, CD Player, Power Mirrors







Stock # 18-109
2013 Ram 1500 Crew 4WD Laramie
Miles: 76,537


Price Pending
Left rear

Options: Leather, AC, Power Locks, Cruise, Power Seats, AM/FM, Tilt, Mags, Power Windows, R/W Defrost, CD Player, Power Mirrors, Hitch, Back up System, Running Board, Heated Seats, Fog Lights, Bed Liner, Rear Slider







Stock # 18-31
2015 Ram 1500 Crew Laramie 4WD
Miles: 35,191


Price Pending
Hard Front

Options: Leather, AC, Power Locks, Cruise, Power Seats, AM/FM, Tilt, Mags, Power Windows, R/W Defrost, CD Player, Power Mirrors, Heated Seats, Fog Lights, Rear Slider







Stock # 18-118
2012 Subaru Outback Limited wgn
Miles: 68,044


$8,950
Left rear

Options: Leather, AC, Power Locks, Sunroof, Cruise, Power Seats, AM/FM, Tilt, Mags, Power Windows, R/W Defrost, CD Player, Power Mirrors, ABS, Hitch, Back up System, Heated Seats, Fog Lights







Stock # 18-52
2004 Subaru Forester wgn
Miles: 117,508


Price Pending
Damage around

Options: AC, Power Locks, Cruise, AM/FM, Tilt, Power Windows, R/W Defrost, CD Player, Power Mirrors







Stock # 18-111
2010 Toyota Corolla 4dr LE
Miles: 40,783


Price Pending
Right side

Options: AC, Power Locks, Cruise, AM/FM, Tilt, Power Windows, R/W Defrost, CD Player, Power Mirrors







Stock # 18-53
2009 Toyota Prius 5dr
Miles: 155,160


Price Pending
Left rear

Options: AC, Power Locks, Cruise, AM/FM, Tilt, Power Windows, R/W Defrost, CD Player







Stock # 17-85
2014 Toyota Prius C
Miles: 39,097


$4,750
Left front

Options: AC, Power Locks, Cruise, AM/FM, Tilt, Power Windows, R/W Defrost, CD Player, Power Mirrors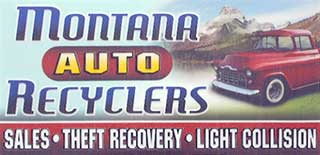 Montana Auto Recyclers


Used Cars • Salvage Repairable • Theft Recovery • Auto Sales